Hue is located in the middle of Vietnam, in the tropical climate. The weather in Hue Vietnam is different from the weather in the North and the South of Vietnam because of the passes (Ngang Pass in the North, and Hai Van pass in the South of Hue), creating its typical weather.
It is interesting to compare the temperature of Hue and Hoi An city, Hue's average temperature is cooler than Hoian's by 2 degree Celsius. But, you will be surprised that some days in the dry season, Hue is able to be hotter.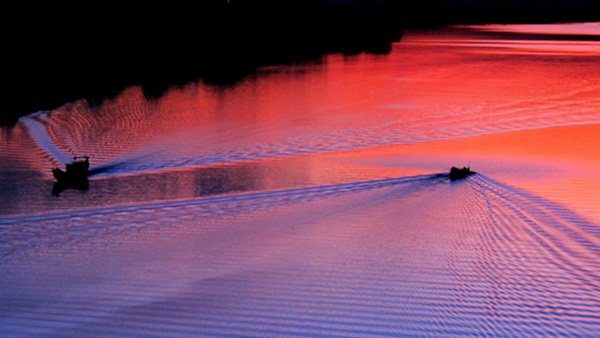 Sunset on the Perfume River in the dry season – Photo by Bảo Huy
Hue gets two main seasons: dry and wet seasons. The dry season from April to the end of the September is the hot time with bright sun; the temperature can be from 30 upto 39 degree Celsius. This is good time for travelers loving the sun or spending time on the beach. From the Hue city centre to the beach is 14 km, Thuan An beach is nice beach with good sand and is still wild. There is a luxury resort built there Ana Mandara Resort Hue.
Thus, when traveling in Hue during this time, you should carry your water to make yourselves fresh. In the early morning or in the late afternoon, you will get nice spots to take pictures such as on the Perfume River, on the Thien An hill or on the streets of Hue city.
Another season in Hue Vietnam is the wet season, from October to the March. The temperature is from 16 to 28 degree Celsius. With some days, when the cold weather comes from the North, the temperature of Hue can decrease to 11 degree Celsius. Hue gets some long days with rain, creating special rain: Hue Rain which is small, but long.
Romantic Hue Rain – photo by Nguyễn Doãn Quang
During the rainy days, Hue looks more romantic and a little bit pretty sad; this makes many travelers love Hue Rain. You can sit down at a coffee shop with French colonial buildings to enjoy the beauty of Hue Rain; or you can find out the colorful streets because of the color of ponchos worn by the local people moving up and down on the streets.
The weather in Hue Vietnam in February and in March is usually very good, not very cold and not very hot. On the day time, you will get warmness of the sun, and you will also get good sleep with cool nights.
It depends on your favorite travel; you can choose good time to come with Hue city, an interesting and beautiful city with a lot of things to see and great street food.
---
Please share this with your friends!Thank you!