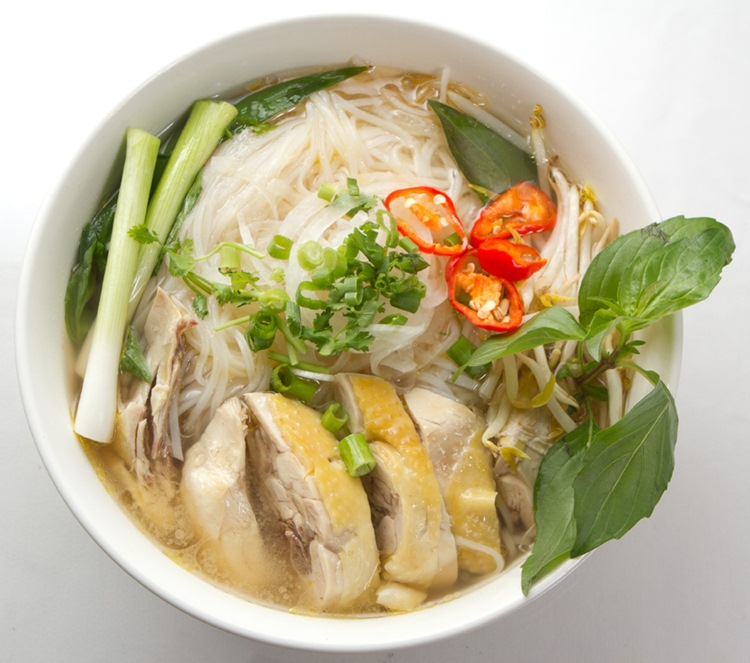 (hueflavor.com)Pho – Vietnamese Noodle Soup is a famous street food in Vietnam, which takes an important part of the culinary traditions of Vietnam. HueFlavor.com would like to introduce Vietnamese chicken noodle soup recipe easy to make at home.

Ingredients to prepare Vietnamese chicken noodle soup are:
– Chicken: ½ hens (around 0.5kg)
– Cock skeleton: 1 set
– Onions: 1 bulb
– Lemon grass: 1 bulb
– Ginger: 1 small bulb
– Dry aniseed: 2 flowers (can use a small piece of cinnamon)
– Red onion: 2 bulbs
– Fish sauce, pepper, lemon, spices, and spring onion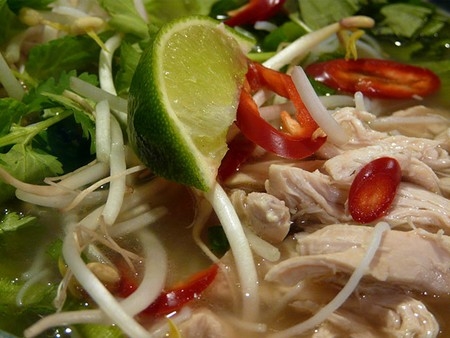 Now is the time for you to start cooking Vietnamese chicken noodle soup after preparing ingredients.

Step 1:
Bake or grill ginger, red onion and ½ onions, then clean the bark. Do the same with the onions. Grill aniseed quickly to create flavor.
Step 2:
Clean the chicken, then rub salt on the body and wash it again. Put the chicken and cock skeleton in the pot, and pour water covering them.
Add ginger, red onion, ½ onions and aniseed and the 1 tablespoon seasoning (soup), and then cook this pot.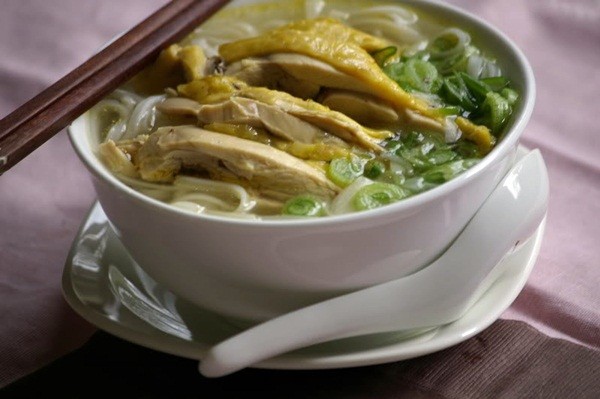 After boiling the water, reduce the fire down and keep cooking around 15 minutes. When the chicken cooked well, take it out of the pot. But, you still boil the cock skeleton around 15 minutes more to make the broth sweet.

Step 3:
After taking the chicken out of the pot, you put it on the dish, and wait for draining. Slide or cut the meat of chicken into small bite pieces.
Step 4:
Prepare coriander, bean sprouts, onion sliced, spring onion, pepper powder and lemon. Put them on a dish to serve when eating.
Step 5:
When you eat, you put the noodle into the bowl; then decorate bean sprout, spring onion and onion sliced on the noodle before pouring the broth into the bowl.
Step 6:
That is ready to enjoy Vietnamese chicken noodle soup. When eating, add coriander, pepper, chili and lemon as you like.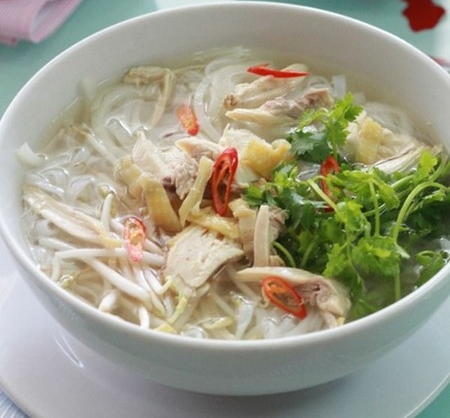 I hope you can prepare good dish with Vietnamese chicken noodle soup recipe easy for your family.

Pho – Vietnamese noodle soup appears everywhere, from the village roads to the corners of the city, from the street food cafes, or in the luxury restaurants. People eat Vietnamese noodle soup as a breakfast dish or maybe lunch, afternoon or evening, but it is difficult to feel bored by the noodle containing special taste. Vietnamese chicken noodle soup recipe will be a small gift for you to cook a good dish for you an your family.
---
If you find this useful, please share it! Thank you!