Here is the translation of article on Thua Thien Hue Online Newspaper writing about Hue Flavor Street Food Tour.
Coming to Hue, tourists can both explore the poetic beauty of the ancient capital and learn the customs, habits and culture of the local people. These are reasons why Hue Flavor Street Food Tour attracts many tourists, especially international travelers.
Interesting experience
It is lucky for me to participate into Hue Flavor Street Food tour with a tourist group from UK. The tour is held by Bach Van Tung Limited Company. After some minutes, going around Hue by cyclo, we stopped at a Hue famous beef noodle restaurant on Ly Thuong Kiet Street.
The pleasure of guests was on their face when smelling good flavor from the Bun Bo. Some of them are curious about the plentiful of raw vegetable dish, chilies and garlics on the table. They started tasting it with the local people. Angela, a beautiful girl said with her happy face: "That's great combination. It's delicious until the last spoon!"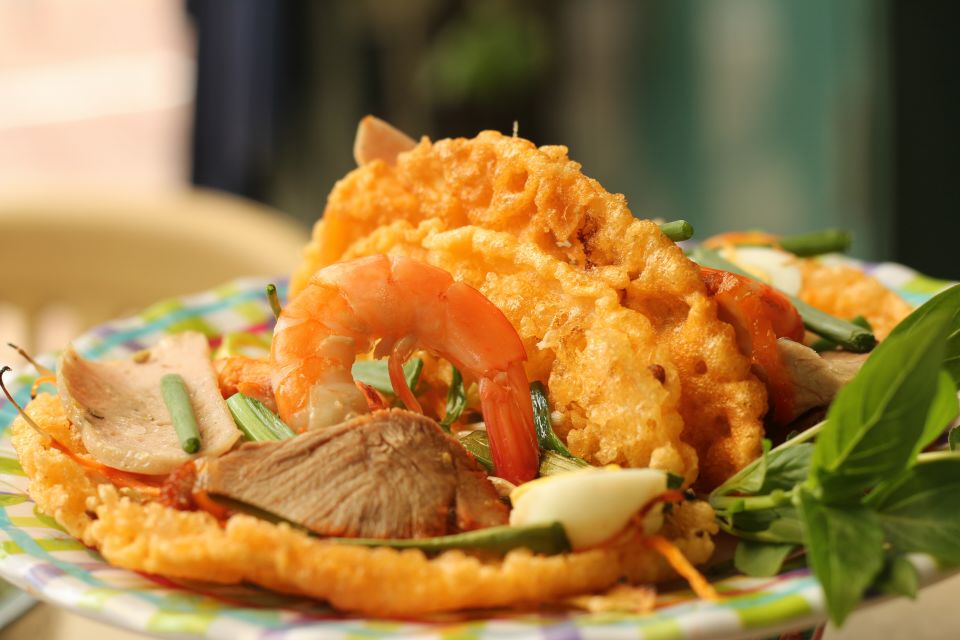 Tourists were interested in not only Hue beef noodle but also the other dishes at each destination. According to Mrs. Vu, the representative of Bach Van Tung Limited Company, "Specific features of this tour are that visitors can enjoy Hue local food, study the history of Hue and the information of ingredients cooked and learn the culture of the local. Besides, the guests can get chance to take pictures of Hue daily life."
While enjoying the Banh Khoai – Hue pancake, travelers explored the origin of this pancake. This was a royal pancake which existed in the history of Hue and now it has been become to the popular street food.
Another guest from London (England), Stephen Osborne, said with his compliments: "In England, we have eaten these dishes; however, they are better when we enjoy them at their birthplace like the locals, and understand the origin of these dishes."
Ms. Lisa, the partner of Stephen, also shared: "This tour helped us have chances to get experience about what I have learnt from books. So excited! "
After experiencing Hue Flavor Street Food tour with the daughter around 4 hours and enjoying about 15 different dishes of Hue, Ms. Dorothy Elisa, an English man settling in Thailand felt highly enthusiastic: "My daughter and I had a wonderful morning. We enjoyed many different foods and flavors of real Vietnamese cooking; to appreciate the importance of matching the right herbs with different meats and fish; and to learn about the beliefs surrounding the beneficial effects of certain herbs and spices. This is an experience not to be missed!"
Beginning from tourists' desires
While many tourists come to Hue to visit the heritage sites such as the monuments, tombs or pagodas with the classic itinerary, Hue Flavor Street Food tour creates different experience about Hue. Therefore, many guests choose this tour to explore Hue.
Many guests coming from the UK, France, Australia, Singapore, Malaysia, the US, Taiwan, Spain and Hong Kong have been happy to join this tour. Currently, many big travel companies have researched and have booked this product for their customers.
Considering as the founder and the main guide for this street food tour, Mr. Thom with more than 10 –year experience in tourism said that most of visitors coming to Hue would like to study the culture of the local people deeply, they enjoyed Hue cuisine very much. Once time, guiding a group of visitors from Switzerland, after introducing the street food at the local stores, they wanted to taste it and decided to cancel their pre-ordered meals to go to enjoy Hue street food for the next meals.
To run this tour, Mr Thom has planned for nearly 2 years. He had to research the food and street restaurants to ensure both criteria as its name Hue Flavor and food safety for visitors. "Compare to other tourist products, Hue Flavor Street Food tour requires a lot of factors. Tour guides must also be a food lover and have knowledge about the cuisine in general and Hue cuisine in particular to be able to share the real experience of Hue through the food." Mr. Thom said.
By Hai Thuan – Thua Thien Hue Online
---
Please share it! Thank you!