Hue has many kinds of famous street food with influences of royal style. Che – Sweet soup is an example. There are many kinds of sweet soup including popular dishes and royal-style ones. Each kind of sweet soup has specific flavor. Hue local people are very skillful with typical eating and drinking; they can cook many different, delicious and nutritious sweet soup.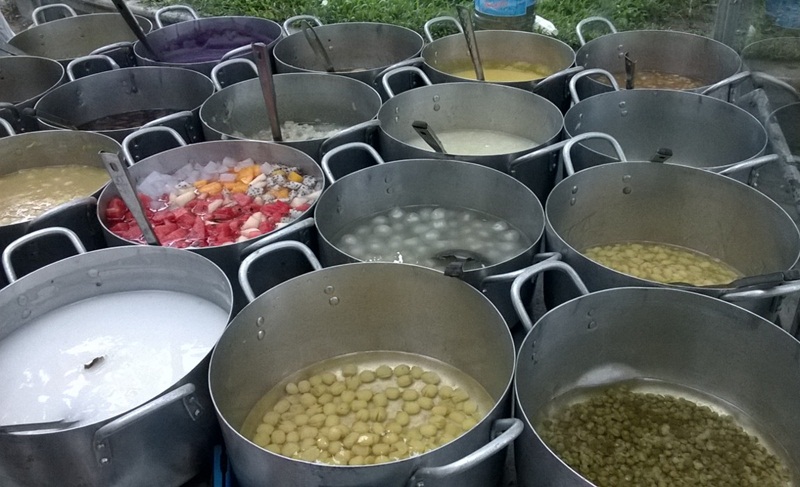 There are sweet soups with noble-minded influence as Che hat sen (lotus seed), Che nhan boc hat sen (longan stuffed lotus seed), Che hat luu (sticky rice with pomegranate seed), Che thit quay (cassava flour stuffed roast pork), Che mon sap vang (yellow taro sweet soup) and Che bong cau (ground skinless mung beans). Some popular sweet soups are Che bap (corn), Che troi nuoc (sticky rice cake and mung bean), Che khoai so (taro), Che dau van (hyacinth beans),Che bot loc dua (furified cassava with cocunut), Che dau xanh (mung bean), Che dau do (red bean) and mixed sweet soup.
The way to cook some kinds of sweet soup is very picky and skillful. Che thit quay – roasted pork sweet soup – is made of rice flour (or cassava flour) covering pieces of roasted pork cut into small peaces. Then put them into water of sugar and boil them. This sweet soup is mixed of both sweet and salty taste that is not cloying to eat. Another noble-minded one is that lotus seed and longan sweet soup. Che Bap – Corn Sweet soup made of immature corn in Con Hen has pure sweet taste. Mixed sweet soup is combination of many sweet soups with a little bit to put into a glass, creating good flavor. Sweet soup in Hue can eat with coconut milk and peanuts to increase its flavor.
Hue has tens of places to sell sweet soup. The most famous sweet soup is Che Hem on Hung Vuong Street and Che Ty on Tran Phu Steet. Sweet soup is real popular street food in Hue, which many local people like to taste. Sweet soup also becomes important part of Hue culture. It can take you a week to taste all kinds of sweet soup in Hue. (Thanh Nhang)
---
If you find this useful, please share it with your friends.